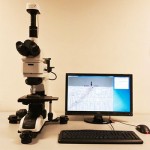 Microscope Service and Sales T10 Microscope system for quality control in the production of razor blades.
This bespoke optical system measures the thickness of the edge of the razor blades to ensure consistency and quality. Using an interferometry objective the system enables users to quickly view the different thicknesses on the image screen.

Download our brochure for more information.