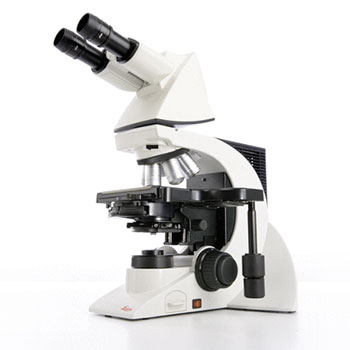 Leica DM2000 with its sophisticated focus mechanism and high performance fluorescence has been developed for more complex tasks in pathology, cytology labs as well as in research applications.
As a system microscope it is well suited not only for clinical microscopy, but for research microscopy applications as well. It gives the customer a Basic Research Stand without having to pay the price of a 100 watt microscope for applications when 100 Watts is not necessary.
Of course, the ergonomics and optical performance are also optimized.
Key Features
Height adjustable focus knobs (Patented: DE 103 40 721)
REAL symmetrical operation of stage and focus controls for symmetrical (not-distorted) position of the user in front of the microscope
Easy one hand operation of the focus and stage control
Standard tube with ergonomic 15° viewing angle
Colour coded aperture diaphragm
Easy right hand/left hand conversion (or elimination) of x/y control
Stage with ultra hard ceramic surface
New HI Plan objectives with special 10x CY objective for clinical applications
Series of brightness synchronized objectives
Easy lamp change with special drawer
Pathology oriented imaging software
3 speed focus drive option
Thermal compensation of focus drift

DOWNLOAD PRODUCT BROCHURE