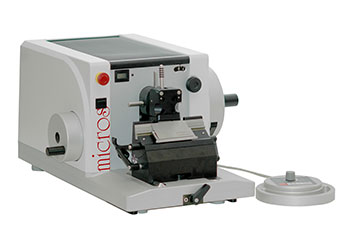 Fully Automatic Rotary Microtomes with blade holder for disposable blades or steel knife holder.
Key Features
Powerful cutting motor drive
High section stability and precision
Great user benefit and superior comfort
Specimen retraction function
High-Speed Button
Razor-E offers great user benefit and gives superior comfort to the operator. The perfectly ergonomic arrangement of the control elements enable effortless handling of the microtome. Section thickness can be adjusted between 0.5 µm – 60 µm and the automatic trimming in 3 steps: 1:10 µm, 2:20 µm, 3:30 µm.
The automatic mode simplifies the technical difficulties of sectioning and reduces the operator labor intensity making work more efficient. A change between these two modes can also be quickly done.