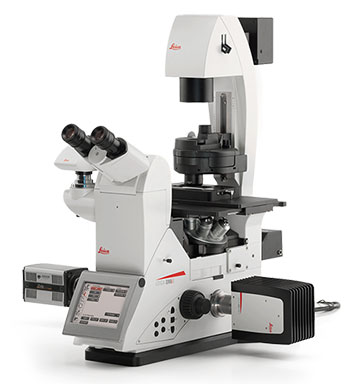 Researchers know that a shift of perspective often leads to the most exciting insights. The Leica DMi8 is an adaptable inverted microscopy. It is as universal as your ideas, and as individual as your tasks.
One platform to match the future of life sciences
From basic microscopy to high-end imaging – Leica DMi8 grows with your ever-changing needs.
Infinity Port designed for flexibility
From observation to interaction – Leica DMi8 opens new dimensions for your research.
The solution for live cell experiments
From easy handling to sophisticated analysis – Leica DMi8 and LAS X software team up perfectly with your living samples.
The Leica DMi8 takes you beyond configuration restrictions. With the freedom of a completely modular system, you can create the perfect system for your research.
For 3D images, you can integrate a motorized focus into a manual system. Or if you want multi-colour images, start with a motorized filter wheel and manual focus.
Key features:
Hundreds of possible combinations so you can create the best solution for your work.
Enlarged FOV – 16mm-19mm for all camera ports
Full range of contract techniques available from bright field, integrated modulation contrast, phase contract, fluoresces, dark field and Differential Interference Contract (DIC)

DOWNLOAD PRODUCT BROCHURE