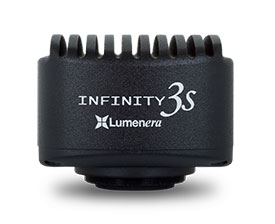 Coming in 2016 the new Lumenera Camera the INFINITY 3S-1UR.
This high-speed, ultra-sensitive research grade microscopy camera has a 1.4 megapixel resolution. Incorporating Sony's new ICX825 CCD sensor which produces a much higher dynamic range and sensitivity over the popular ICX285 sensor.
The INFINITY 3S-1UR has the unmatched light sensitivity needed for challenging low light applications such as fluorescence and NIR imaging.